This morning, we had a very posh breakfast indeed, before getting our rental car and driving out to the San Diego Zoo Safari Park. Morten got the chance to feel intimidated by American motorways, and I got to snap pictures. We'd asked for the smallest car they had. They gave us a Jeep Patriot. Well, this is, apparently, America.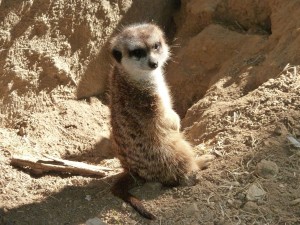 The Safari Park was amazing! We took a walk and looked at tropical birds and gorillas, and then it was time for our Caravan Safari out into the habitats. Today, I have learned that rhinos are much friendlier than giraffes, having fed both.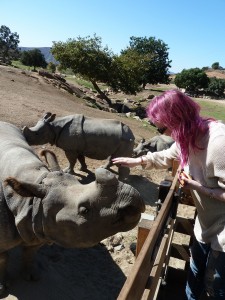 The rhinos were just happy for the apples, and didn't mind at all being petted and spoken to. They seemed intelligent and interested, and they were just awesome and sweet. The giraffes tried to eat the caravan, and followed us when we were done feeding them. They were like the deer in Japan. I mean, they were lovely, too. All the animals we saw were. It was such an experience, seeing all these creatures up close!
When we were done with the safari, we had some lunch and took a walk to look at the elephants and the lions. We wanted to see the tigers as well, but we couldn't find any.
On ou way back, we had a bit of an adventure trying to find a petrol station. It was really, really stressful, but all in all, I think Morten handled it like a champ! <3
We registered for the con, and were given a shittonne of books! I mean, I have no idea how we're going to get them all home with us. Might have to post them. Among them was the 10th aniversary edition of American Gods, in hard cover. Which means we now have four of it. Woot! Then there was an opening ceremony, in which the guests of honour were introduced and spoke very briefly.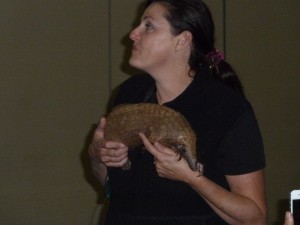 The first thing we attended was a demonstration by the San Diego Zoo of interesting animals. It was awesome! We saw an owl, and an amardillo, and a… not a penguin, but it sounds like it, I forgot the name, it's the one in the picture. And a lesser anteater, and a porcupine, and a big-ish cat, and a very funky, very happy runny-around-y thing with black fur that climbed trees and wanted to be friends with us.

As fascinating as all the animals were, though, the highlight of all this was that Neil Gaiman was sitting five seats away from me. Seriously. I could see him writing that tweet.

We also attended a panel on class in fantasy (inspired by the Occupy movement, no doubt) and one of monsters as protagonists.

And that was our first day in San Diego! Tomorrow, a reading, an authograph session, and a gig with Amanda Fucking Palmer. So long!

Alle tests orientierten sich an den definierten kompetenzen der bildungspläne

Posted on October 28th, 2011 in