A truly fucking awesome day! This morning, we got up and had breakfast, as you do, and bid on a couple of pieces in the art show, and then attended a couple of panels. One was the awesome guest of honour Ruth Sanderson talking about her fairy tale illustrations. She really is an amazing illustrator, and I wish I had $5000 to spend on one of her paintings. I don't, so instead I made due with a print of her amazing Heart of the World painting, from her book The Enchanted Wood. Signed and numbered, #16/100. Then there was a Q&A with Connie Willis, in which she raved about Primevil, made fun of alien abductions and generally seemed lovely. I need to find some of her books and read them.
We went on an adventure to the Fashion Valley mall afterwards. We were looking for somewhere we could buy toothpaste, but there was no such thing there. Instead, there were five department stores and a shopping street to rival Karl Johan in Oslo. It was absolutely ridiculous! And in all this, there wasn't a single shop that could sell us a measly tube of toothpaste. (Don't worry, we do probably have enough, we just don't have very much.)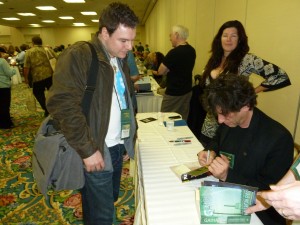 When we returned empty-handed from this excursion, it was time for Neil Gaiman's reading, which basically the entire con came to. (I feel sorry for the panels that were running simultaneously.) He is such and amazing reader! I feel really privileged to have been allowed to hear him in person, he tells stories so well.
A couple of hours after that, Neil Gaiman and Connie Willis had a conversation panel thing, where they generally just talked about writing, and reading, and, you know, the craft of fiction. They had so many interesting things to say, and for the moment I can't really remember any of it, as it's just been such an exciting day. What I do remember is feeling happy, sad, amused and moved.
We had some dinner after that, before it was time for the book signings. The queue to Neil Gaiman was ridiculous. I mean, honestly!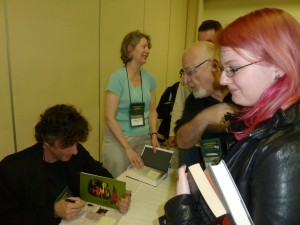 There were just so many people who wanted to get their books signed by him, compared to everyone else, so they gave him his own queue, and we waited for a good half hour at least, probably longer now I think about it… We talked to the people behind us, who were both awesome and friendly, about politics and literature and history and just everything. Not something that happens often in Norway, of course. So that was an interesting experience too.

When it was finally my turn, I got a bit choked up, stuttered some, but managed to tell him that his Doctor Who episode was my favourite ever. I did not, thankfully, break into tears, nor did I declare my undying love for him. (Completely platonic. Well, mostly. I like him for his 'long and prolific writing career'.) So, all is well. I have not yet made a complete fool of myself in front of my hero.

After the signing, we headed off to town to see Amanda Palmer, 'Mrs. Gaiman'. We missed the support acts, sadly, though we caught the last tune of the second one, the Jane Austen Argument, and they were truly awesome! They sang with Amanda later on, as well.

I admit that I haven't listened much to Amanda Palmer. Mostly, it's only the 8in8 thing I've listened to extensively, and while I've heard some of her solo stuff, I've never really paid all that much attention. Not cause I didn't like it, just because there's so much music in the world, and it takes some time to get to it all. I have now very definitely got to Amanda Palmer. I am in awe of this woman! The way she performs is just incredible, she has this energy that's in her whole body when she plays, and she is so amazingly hot on stage, too. She is wonderful, and I vow to buy all her music when I have the money for it.

Needless to say – as I've already said it – today has been fantastic! But tiring. It is now most definitely time for bed. Good night, world!

It designed so well and acted so fast that the ipod was clearly ahead of the pack for two years

Posted on October 29th, 2011 in